Create multilingual versions of an in-app message and automatically target users of each language, all within a single campaign, using Swrve's in-app message localization. Track and view engagement results for each language group and adjust future campaigns accordingly.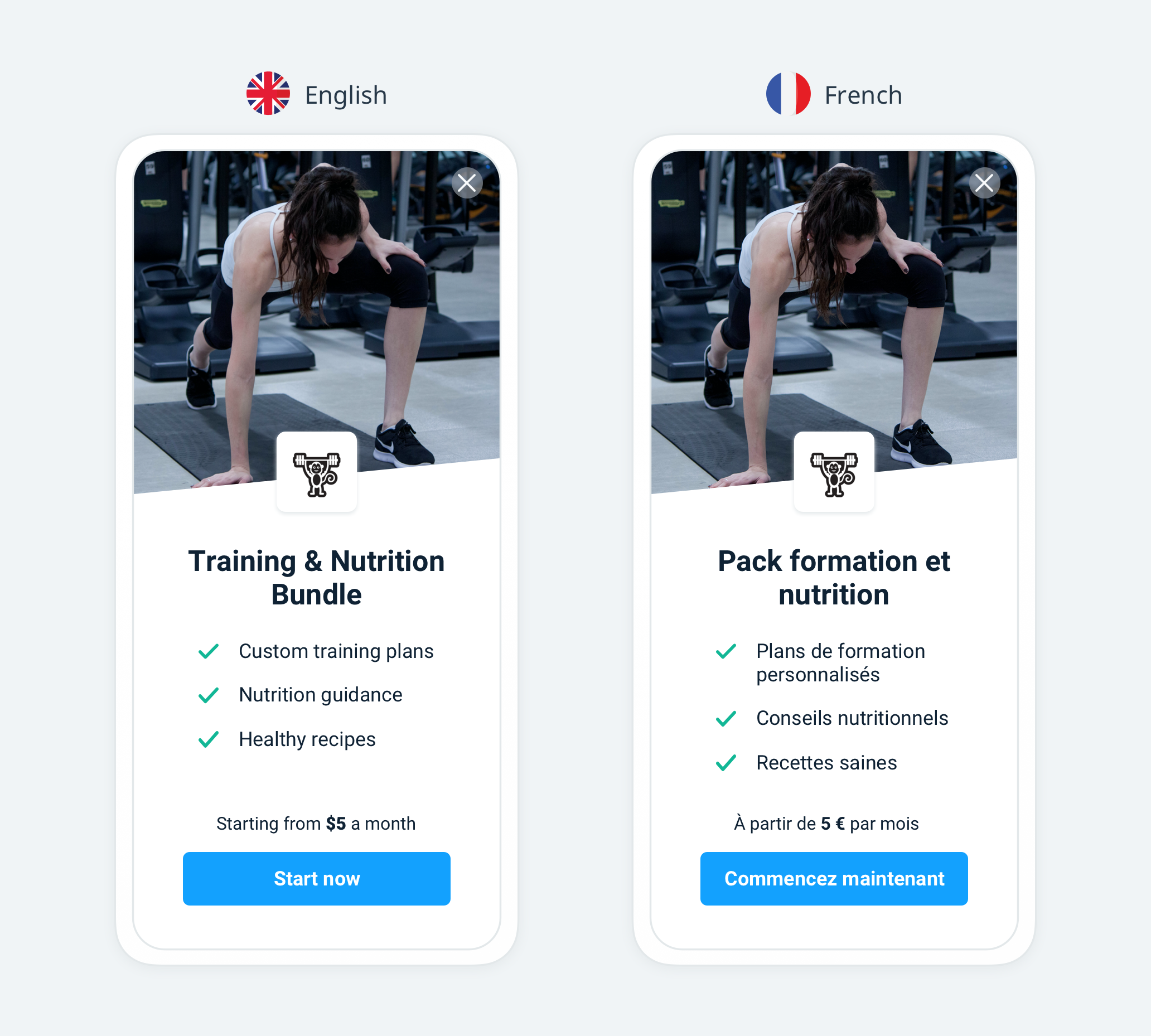 Presently, you can only select the option to localize or A/B test your in-app message—it's not possible to do both for the same campaign. However, we're in the process of streamlining our campaign workflow and this feature is available with email, SMS, and push notifications. For a preview of the new workflow, see Localizing and A/B testing campaign content.
In-app message localization is currently available as part of our
Early Access
program. To have this feature added to your Swrve dashboard, contact your CSM at
support@swrve.com
.
---
How to localize an in-app message
The Localization feature is available on the Add Content screen of the in-app message campaign workflow. For general information on how to set up an in-app message campaign, see Creating in-app messages.
Step 1: On the Add Content screen, add the content of your default message as required.
The default message acts as a catch-all notification that is displayed to users who are not targeted by any of the localized variants.
Step 2: Select Localize.
The localization tabs are displayed and include a tab for the Default message. You can use the Localization feature to run two types of campaigns: targeting specific language groups and including a default message that is displayed for everyone else or targeting specific subsets of language groups only.
To target specific language groups and include a catch-all message that is displayed for everyone else, leave the Default tab as your catch-all notification and add additional languages as needed.
To target set language groups only, specify the first language on the Default tab and add additional languages as needed. This excludes a catch-all message, as required, but you can reintroduce one by simply changing the language on the first tab back to Default.

Step 3: To add additional languages:
In the Select Language list, select the language in which you want to localize the in-app message. The tab title is automatically updated to display the selected language.
Add the content of the localized in-app message as required (for example, background image, buttons, actions).
To add additional languages, select the Add (+) icon next to the current tab and repeat the above steps.
After you have created your localized variants, select Next: Set Targeting to proceed.
Step 4: On the Set Target screen, specify the target audience, display triggers, and campaign goals.
By default, the target audience is all users who match any of the languages you specified on the Add Content screen, but you can select additional audience filters as required. Each language variant includes the same campaign goals for all users.
Step 5: Complete the rest of the campaign workflow as you would for a basic in-app message, including checking each localized variant on a QA device.
Step 6: To view a preview of the localized message variants on the Preview & Test screen, select each variant tab. If you are happy with the preview of your in-app message, schedule and launch the campaign as you would for a basic in-app message.
---
Next steps