Our redesigned, streamlined campaign workflow is now available for in-app messages! Create, customize, and deliver a localized, A/B tested in-app message to one or all of your platforms in a single campaign.
Swrve's streamlined campaign workflow gives you several options to create and manage your in-app message campaigns. It supports creating in-app messages using a combination of images and text, as well as the ability to personalize text and call-to-actions.
---
Prerequisites
Platform-specific delivery
To deliver platform-specific in-app messages, your development team must integrate the latest Swrve SDK. For more details, see the relevant integration guide.
Single-line text and custom engagement actions
Personalized single-line text and custom engagement actions are supported in our core SDKs as of iOS 6.5.0, Android 7.1.0, and Unity 7.2.0. If you include single line text or personalized custom actions in your campaign content, the campaign will not display on devices running older versions of the core SDKs, or on any devices running the Cordova, React Native, Roku, or Smart TV SDKs.
---
Create an in-app message campaign
The first steps for setting up an in-app message are the same as other channels, with a few extra actions.
Set up your campaign
To create a new campaign from your Campaigns center, select Create campaign.
To deliver in-app message campaigns to a specific platform, for example if your campaign's content is not relevant to all platforms, select the specific Platform from the options. The default is All platforms. Note:

Platform delivery only applies if your app supports multiple platforms.

To deliver in-app message campaigns to a specific device type, for example if the content structure is different between TV and mobile, select a Device type from the options of Mobile and TV. The default is All device types. Note: Device type delivery only applies if your app supports multiple device types.
To continue to the Campaign overview screen, select Continue.
Enter the Campaign name, Description, and Tags, then select Save to go to the campaign builder.
The blocks on the campaign screen guide you through building your campaign. While there is no specific order to how you build your campaign, you must complete Content and Schedule before you can test and activate your campaign.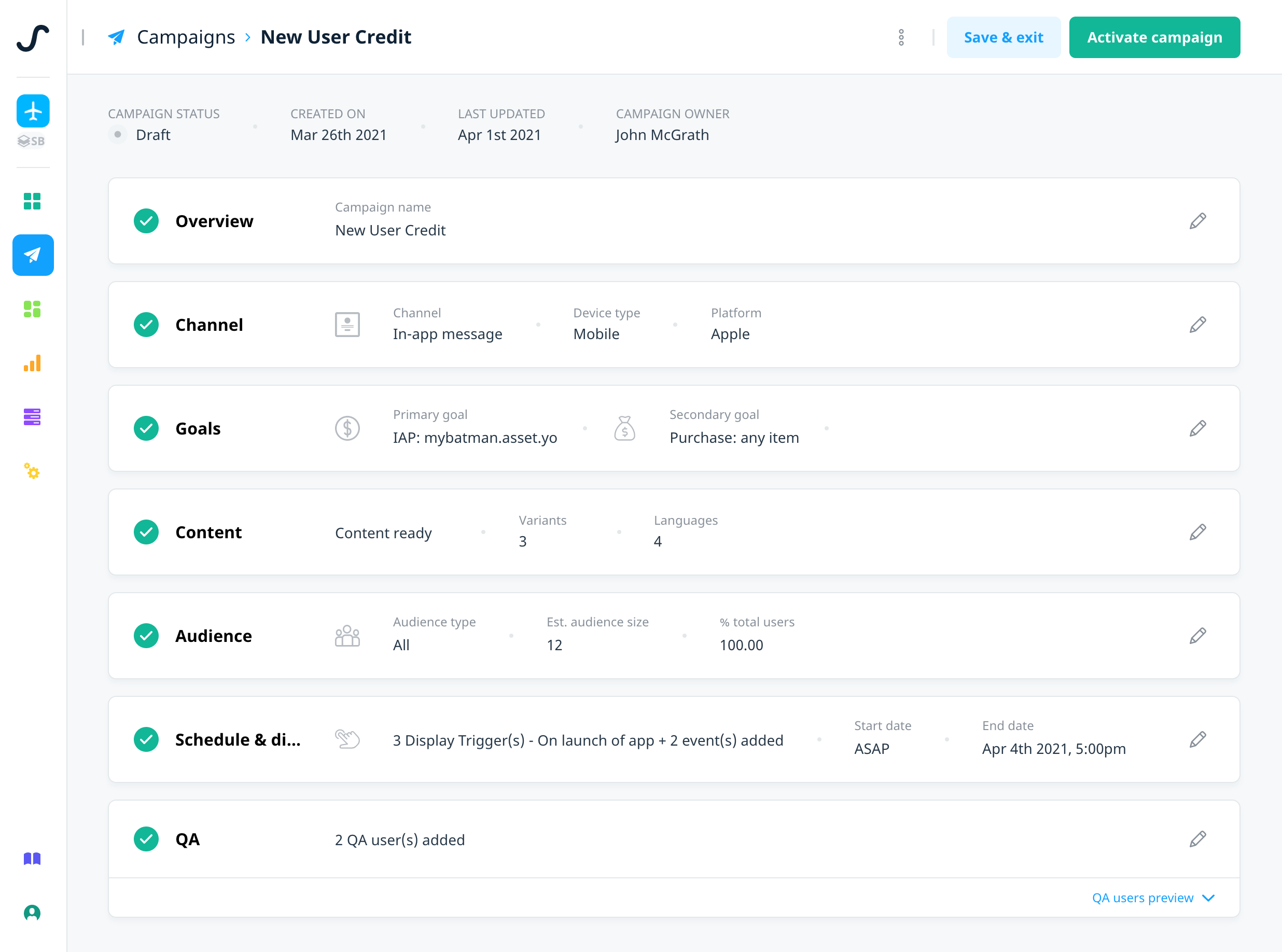 To update your platform and device type selections while your campaign is in Draft, select Channel. In some instances, changing the platform and device type might reset your campaign content, as the selection determines what templates are available to use.
The rest of this article mainly focuses on how to add campaign content and personalize single-line text and custom actions. To learn how to create your target audience, set your campaign display triggers, and schedule your campaign, see the following:
---
In-app message content
To add or edit your in-app message content from the campaign build screen, on the Content block, select add + or edit . There are two main parts to adding your content—selecting your message template and then adding the appropriate content.
Select message template
From the Campaigns builder, select the Content block.
In the Choose a template dialog, select the template orientation. The options are Landscape, Portrait, or Both.
Select the message template. The available templates depend on your device type and platform selections.

By default, Swrve supplies three templates for each orientation:

No Buttons – Configure a single background image and its associated action (for example, dismiss, deeplink).
One Button – Configure a background image, a single on-screen button, and the associated actions for both.
Two Buttons – Configure a background image, two on-screen buttons, and the associated actions for each.
To change your template, on the Content screen, select Change template. Changing your template resets any previously added content.
If you are interested in displaying different artwork on tablets versus phones (for example, iPad versus iPhone), contact your customer success manager who will update your profile with additional templates for targeting specific devices.
Add message content
The sections that display in the Content editor depend on the template you selected. Your in-app message campaign is made up of a background image and one or more buttons. While your campaign must always include a background image, you can choose the number of buttons and and content type of each of your buttons.
Background
Every template requires a background image. To help you use a single piece of artwork across all platforms and devices, the Background section displays two dimensions: the recommended size of the image you want to upload and the safe zone resolution. Swrve automatically resizes each image for all devices. For more information about image guidelines, including sample images you can download for reference, see In-app messaging best practices.
To add the background image for your message, drag the image you want to use into the Upload file area or select Choose file to upload the image.

Check to ensure the uploaded image adheres to the resolution requirements and that all important aspects of the image fit within the safe zone dimensions. A warning displays if the uploaded image resolution doesn't match the template's recommended resolution.

If you want to include an engagement action for the background image, select an action from the Action list. No action is selected by default, however Swrve requires that at least the background or one button has an action, even if that action is Dismiss. The available actions are:

Dismiss – Dismisses the message.
Deeplink – Directs the user to a particular custom location; for example, you might configure the action to direct a user to a specific website or section of your app. Coordinate with your development team to determine the your app's deeplink URL scheme.
Copy to clipboard – Copies the action content to the user's device clipboard. For example, you might provide a coupon code that the user can copy and apply later when making a purchase.
Buttons
Swrve now supports two formats for adding buttons to your in-app message content—text or image.
To specify the content type, select + Add Content.
Optionally, edit the button position by either manually moving the image in the device preview or by entering the number of pixels by which you want to move the image in the Position boxes. For example, if you enter 5 in the X box and 10 in the Y box, the image moves 5 pixels to the right and 10 pixels down from the center.
To include an engagement action for your buttons, select an action from the Action list. If you did not select an action for your background image, then you must specify an action for at least one of your buttons.
Device preview
As you add your content, it displays in the device preview on the right side of the editor. To preview the content on a specific device or orientation, select an option from the device list and select the orientation icon. To include or hide the image safe zone in your preview (that is, the portion of the image that always displays after automatic resizing, regardless of the platform device), select the Safe Zones toggle.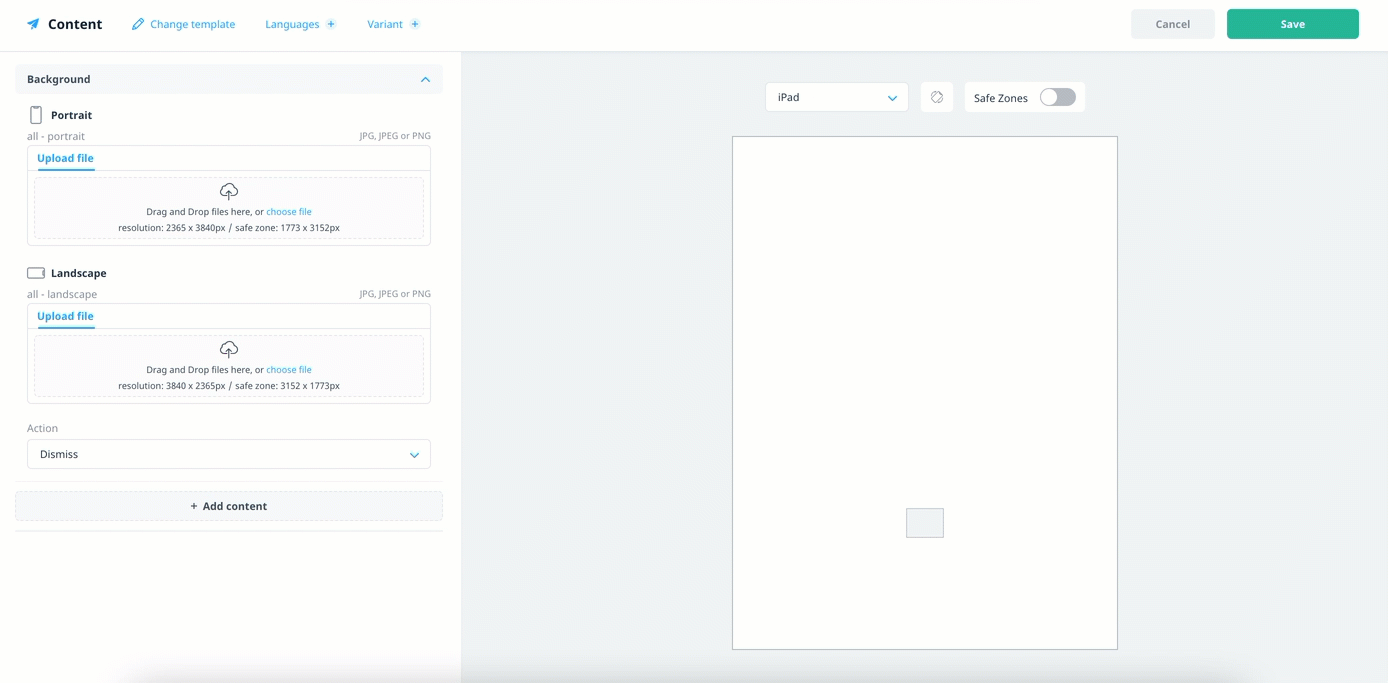 The preview device and orientation automatically update to reflect the content you are currently editing. For example, if you upload an image for the iPad portrait format, the preview device automatically changes to show the iPad in the portrait orientation.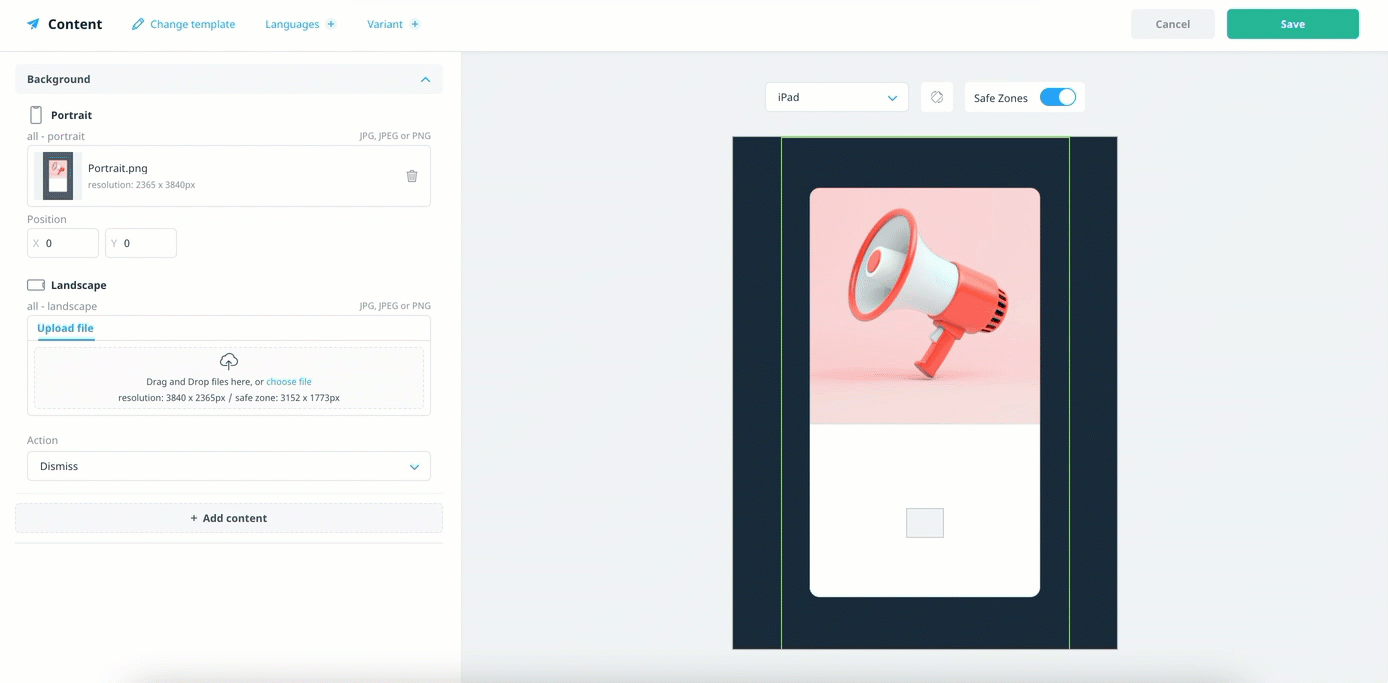 ---
Personalized text or actions
Use Swrve's real-time user properties to include dynamic, personalized content in your in-app message—for example, the customer's favorite sports team, game character, or movie genre. Swrve supports personalization in the single line text content, as well as the deeplink and copy to clipboard actions.
To use realtime user properties in your campaign, first configure the properties you want to personalize your content with. For more information, contact your CSM at support@swrve.com for further assistance.
Personalize your content
Move your cursor to the point in the single line text or custom action where you want to insert personalized content and select Insert property .
In the Insert a user property dialog, enter part or all of the custom property name in the Select item box and then select the property from the list of values.
---
Localize and A/B test your content
One of the most exciting features of our streamlined campaign flow is the ability to localize and A/B test your campaign content within a single, unified campaign. Use the Languages and Variant tabs to create localized versions of your content or create variations of your content to test for best conversion and engagement.

For more information on how to localize and A/B test your campaign content, see Localizing and A/B testing campaign content.
---
Test your campaign
To test the in-app message campaign on a physical device, first ensure your device is set up on the QA devices screen. For more information, see Testing triggered campaigns.
---
Next steps