Manage all of your Swrve campaigns, across all channels, in our unified Campaign center.
Swrve's Campaign center provides a centralized, customizable view of all your campaigns. Filter your campaign view by state, channel, content, and schedule, and quickly view important details and metrics for individual campaigns without leaving the page. Create campaigns directly from the Campaign center using a streamlined workflow.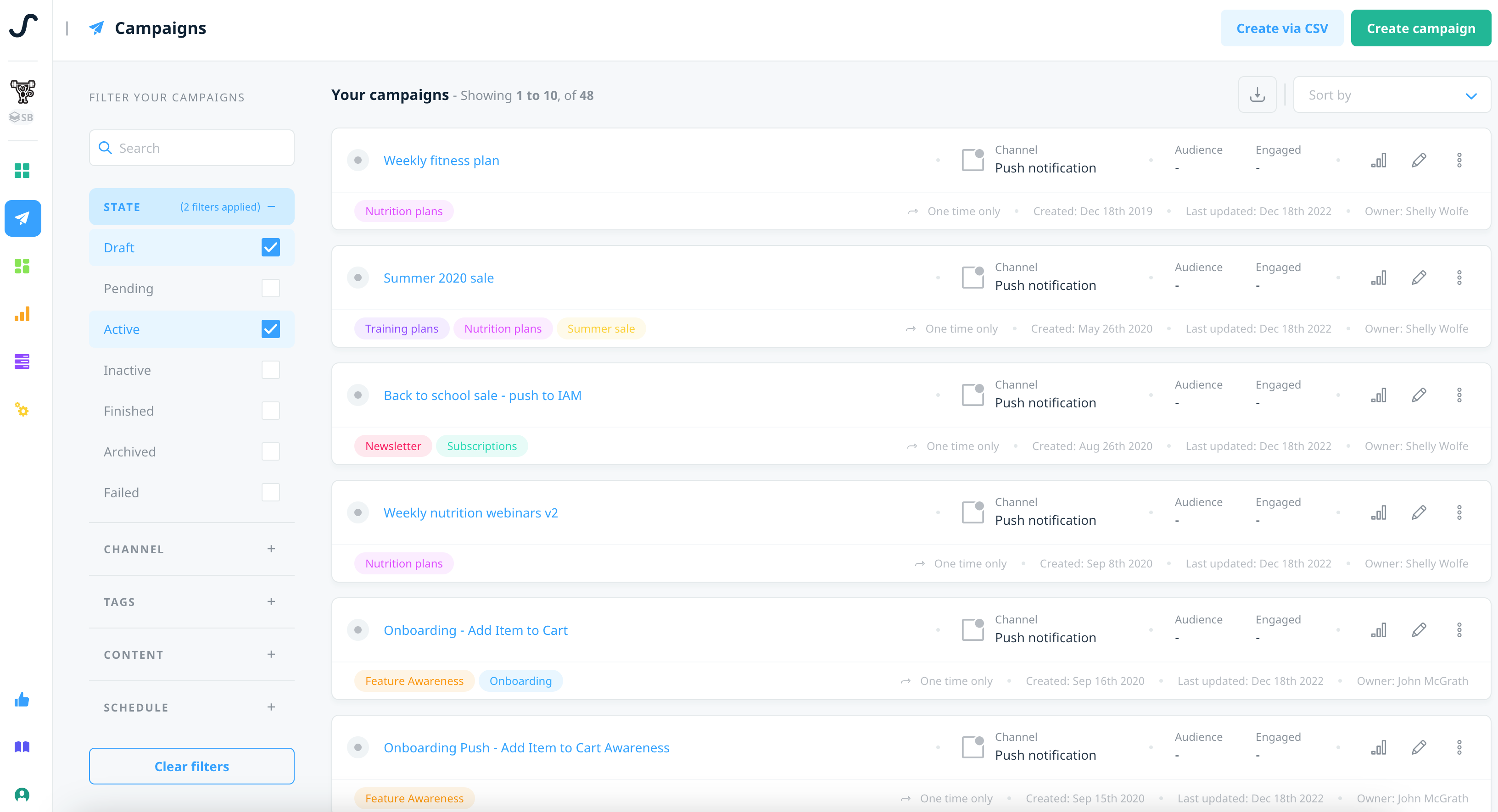 ---
Customize your campaign view
Use the available filter conditions to personalize your campaign view from a broad overview of all your campaigns to a small set of targeted campaigns based on your personal requirements. The default view is all campaigns, but after you personalize your campaign view, the filter set is automatically saved in the most recent state until you clear the filters or make another selection. To clear your filter conditions and return to the default view, select Clear Filters. You can also use the search box to filter your campaigns by keyword.

Customize your campaign view using the following filter options:
Filter
Applies to
State – Filters campaigns by the current state
Draft
Campaigns that are created but not yet scheduled or launched.
Pending
Campaigns that are scheduled but haven't reached the start date, or launched and in the process of sending.
Active
Scheduled campaigns where the start date has passed, or any one time notifications, quick push notifications, or other campaign types that were launched immediately.
Inactive
Previously active campaigns that were stopped, paused, or set to inactive.
Finished
Campaigns that have finished sending or reached the scheduled end date.
Archived
Campaigns that are manually archived.
Failed
Campaigns that failed to send due to an error.
Channel – Filters the list by campaign delivery channel
Push notification
Push notification campaigns. Use the secondary filter to select specific notification types—Scheduled, Via API, Quick, or Triggered.
In-app message
In-app message campaigns
Conversation
Conversation campaigns
Email
Email campaigns
SMS
SMS campaigns
Background update
Background update campaigns, both scheduled and via API.
Embedded
Embedded campaigns
Tags – Filters the list by campaign tags
Tag
All campaigns associated with the selected tag(s).
Content – Filters the list by the campaign creator, created on date, or content
Created by
Campaigns that a selected user created.
Created date
Campaigns that were created on or during the specified time frame.
Localized
Campaigns that include localized content.
A/B tested
Campaigns that include A/B tested content.
Created via API
Campaigns that were created via one of Swrve's campaign APIs.
Schedule – Filters the list by the scheduled campaign frequency
One time only
Campaigns that were sent as a one-off occurrence.
Recurring
Campaigns that are sent on a recurring schedule.
Filter view by tags
To filter your campaigns by tags, expand the tags section, and then search for or select the desired tags from the list.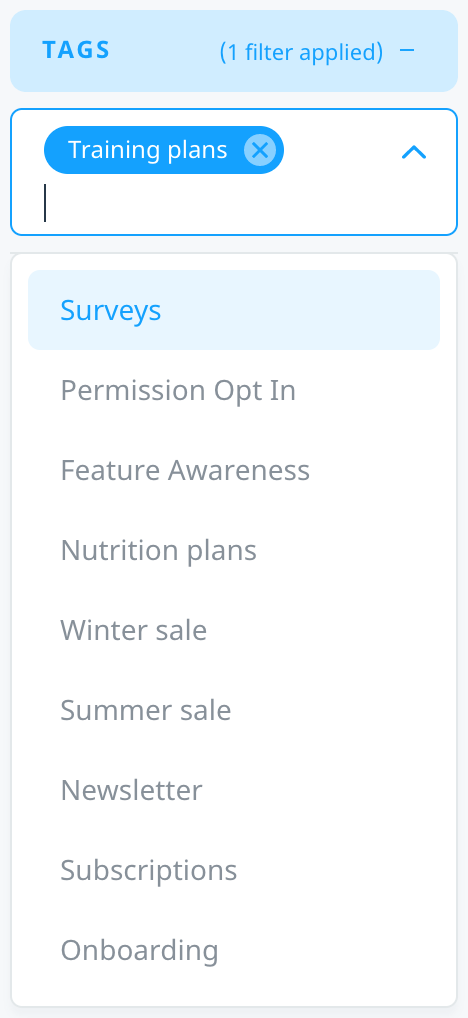 For more information on creating and managing tags, see Campaign tagging.
Filter view by dates
To filter your campaigns by dates, select the timeline (After, Before, Between, On), and then enter or select the desire dates from the calendar.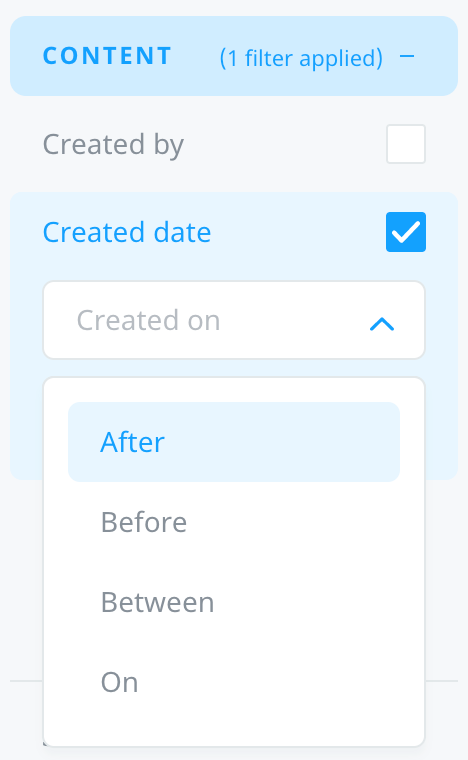 Sort campaign results
To order the displayed campaign results by various options, use the Sort by list.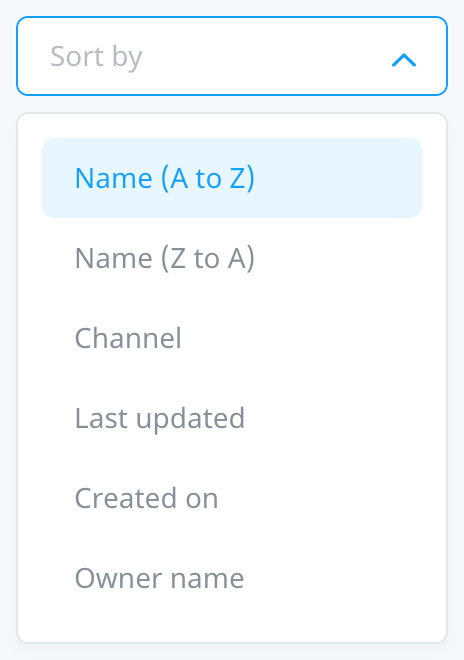 ---
View campaign details
To quickly view basic campaign details and high-level metrics, on the campaign card, select View metrics

.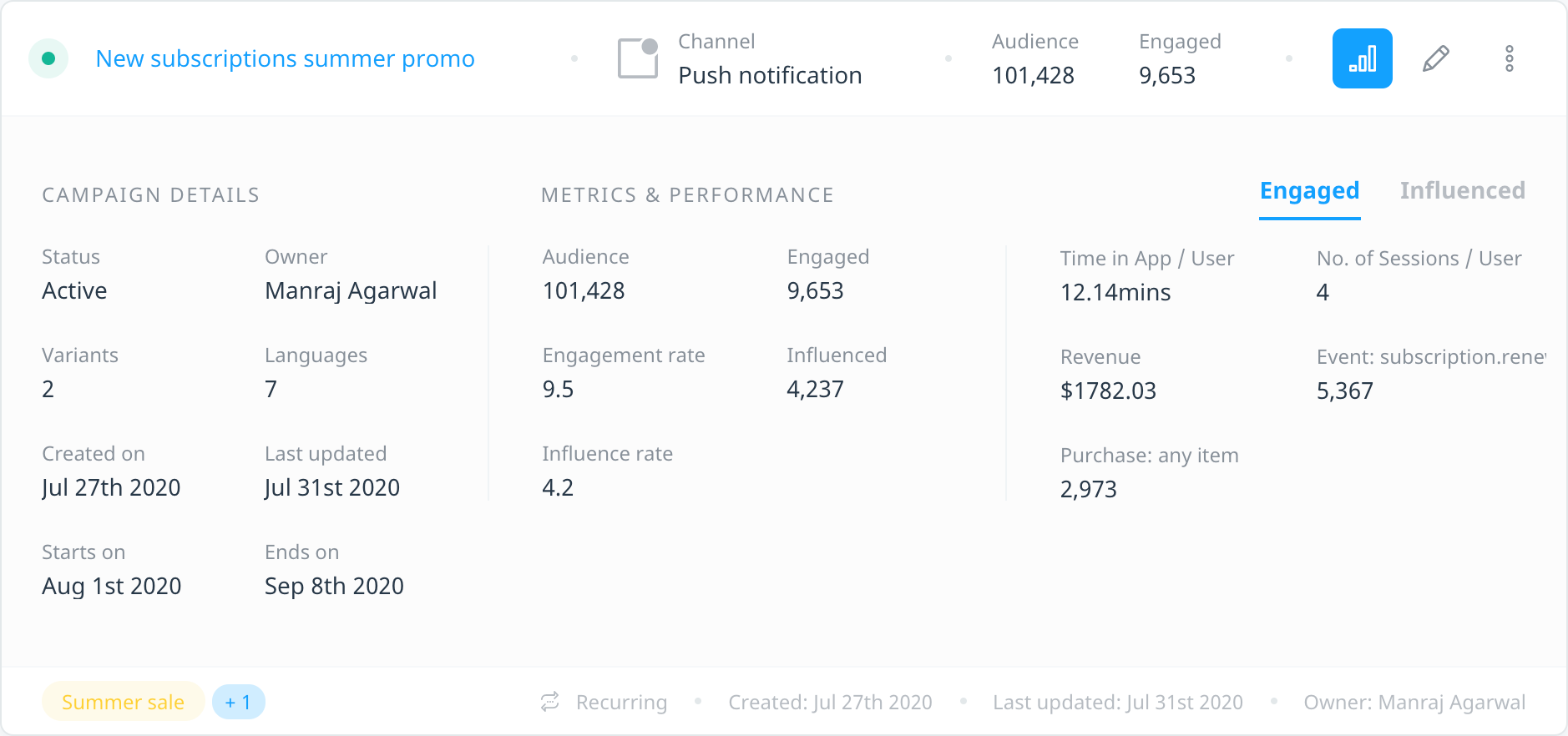 Depending on the delivery channel, the following details are displayed in the expanded card view:
Campaign details – displays the campaign status, owner, date created, and date last updated. Also displays number of variants and languages for localized or A/B tested campaigns, and campaign start and end dates, if relevant.
Metrics & performance – displays audience, engagement, and influenced metrics, if relevant, plus any custom metrics set when you created the campaign. For more information on channel-specific metrics, see the related campaign report page:
To view campaign details or make changes to a campaign, select the campaign name, Edit campaign  or Actions . For more information on the actions available from specific campaign reports, see the related links above.
Download campaign reports
To access the Download Campaign Reports screen, select Download campaign csv 

.

For information on how to download your campaign reports as CSV files, see Downloading campaign reports.
---
Create a new campaign
Create a campaign directly from the Campaign center by selecting Create campaign and then selecting the relevant channel.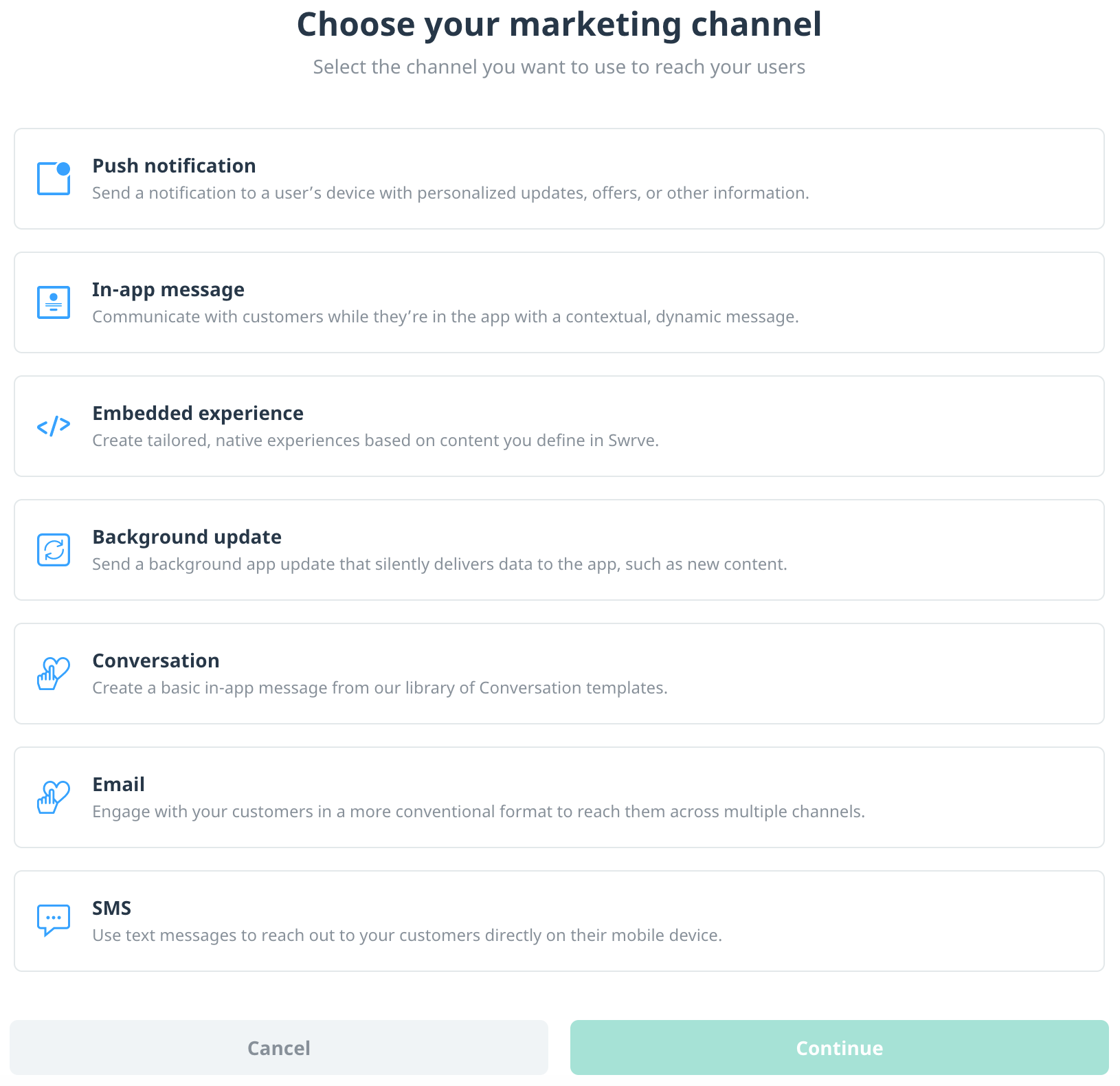 After you select the delivery channel, you're guided through the associated campaign workflow. For more information on how to create specific campaigns, see the following tutorials:
---
Stop or end a campaign
To end an active campaign, on the campaign summary card, select the campaign name link or Edit campaign . The actions taken to stop a campaign depend on the campaign channel:
Push notifications: To stop a sending, recurring, or push via API campaign, select Stop campaign.
In-app messages, Conversations, and Embedded campaigns: To pause and edit an active campaign, select Pause. To end and automatically archive a campaign, select End Campaign.
Email and SMS: To stop a sending or recurring campaign, select Stop campaign.
Background updates: To stop a sending, recurring, or update via API campaign, select Stop campaign.
---
Next steps