Integrate Swrve with your existing marketing cloud, analytics, customer data platform (CDP) engagement, or attribution platform to extend the reach of your existing data.
Use Swrve's pre-built integrations to enhance your external user profiles with mobile data from Swrve or create target audiences and trigger campaigns in Swrve based on properties or events from your external systems. Developed as an open data layer, Swrve Connectors automate the flow of data from both internal and external sources to trigger actions in real-time with various marketing systems, including CRM, marketing cloud, attribution, analytics, email, and more.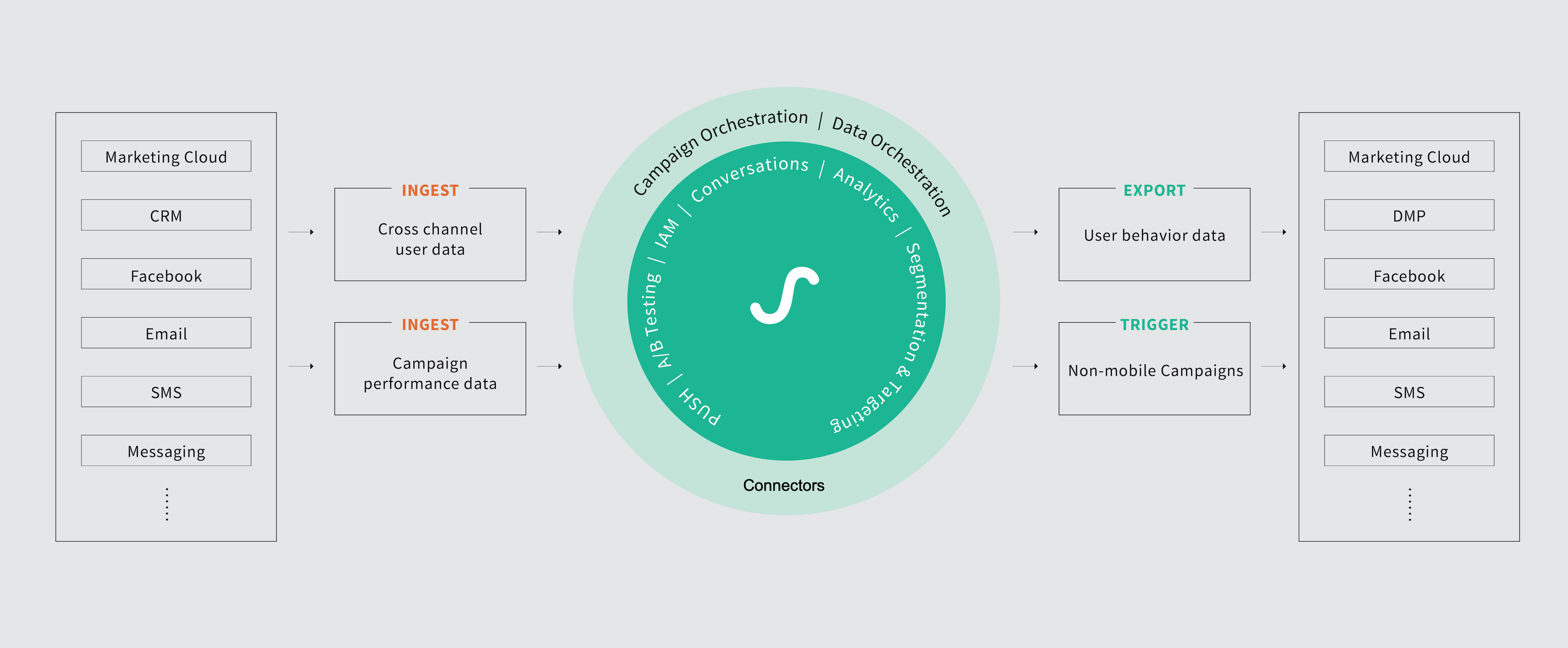 With this combination of data flows and rules engine, use Swrve integrations to:
Automate your data management – Control the flow of data between Swrve and your third-party data applications.
Give contextual relevance to your Swrve campaigns – Use any contextually relevant information from external sources to improve the effectiveness of your Swrve campaigns. For example, change the messaging to a user in real-time, based on the weather in their location.
Trigger campaigns through email, SMS, and other channels – Gain cross-channel insights into your users' behaviors and then adapt your campaigns accordingly. For example, detect when a user is not opening your emails and respond with a mobile push notification campaign instead.
Provide a high degree of personalization – Use the data gathered by third-party systems to enrich your users' profiles and preferences.
---
Connectors
Swrve uses Connectors to activate and manage the configuration of your third-party integrations. Some are available out-of-the-box, while others are available as add-ons to your existing Swrve service. For more information about our pre-built Connectors, see Managing your integrations.
---
Marketing Cloud integrations
Swrve's open platform approach enables external systems to seamlessly access Swrve's core mobile engagement features. Using the Swrve open framework, extend your third-party marketing system with mobile marketing features such as push notifications, in-app messaging, and so forth, with apps or plugins that run on those platforms.
Salesforce Journey Builder
The Swrve Salesforce Journey Builder app is available for all Salesforce Marketing Cloud customers. Use the Swrve Journey Builder app to build rich, multi-channel customer lifecycle journeys embedded with mobile engagement actions. For more information, see Salesforce Journey Builder.
Oracle Eloqua Campaigns
Trigger Swrve campaigns, events, and user property updates in your Oracle Eloqua campaigns with the Swrve app for Oracle Eloqua. For more information, see Oracle Eloqua Campaigns.
Oracle Responsys Program
Build sophisticated mobile interactions or trigger events and user property updates in Oracle Responsys Program with Swrve apps for Oracle Responsys. For more information, see Oracle Responsys Programs.
---
Next steps
To add an integration to your Swrve service or if you have an integration with a provider not mentioned, contact your CSM at support@swrve.com.