Push notifications are a powerful channel that enable you to communicate with your app users when your app isn't open or even running. Swrve offers several types of push notification campaigns to help you engage with your customers in a timely, relevant, and personalized manner.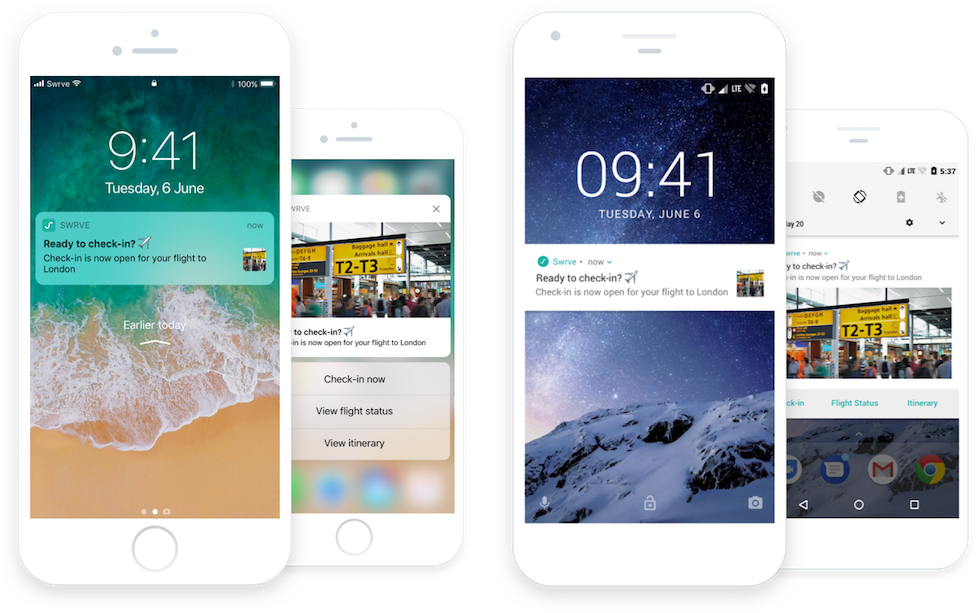 Coupled with Swrve's behavioral segmentation feature, use push notifications to target the right message at the right people at the right time. For example, re-engage inactive users or promote special offers to a segment of premium subscribers.
Additionally, Swrve enables you to include rich media content in your notification, dynamically personalize your message using custom properties, A/B test the content of your messages to compare conversion rates, or create localized versions of a message within a single campaign to target specific language groups.
---
Push campaign types
Swrve's push notification service includes the following campaign types:
Push notifications vs. in-app messages
The focus of push notifications is communication with users while they're outside of your app. If you want to communicate with your customers while they're using your app, use Swrve's in-app messaging service or Conversations feature. For more information see Intro to in-app messages or Intro to Conversations.
---
Triggered push notifications (new!)
While Scheduled and Quick push campaigns allow you to send push notifications to groups of users based on their behavioral and profile data, triggered push campaigns allow you to send notifications to individual users in direct response to their actions.
Configure your campaign's entry trigger and cancellation events to define who gets your campaign and when, as outlined in the following examples.
Abandon Cart
You can delay sending a push notification and add cancelation criteria to give customer the opportunity to take action on their own. For example, send a push notification to a user when they add an item to their cart, but only if they do not complete the purchase within the next hour.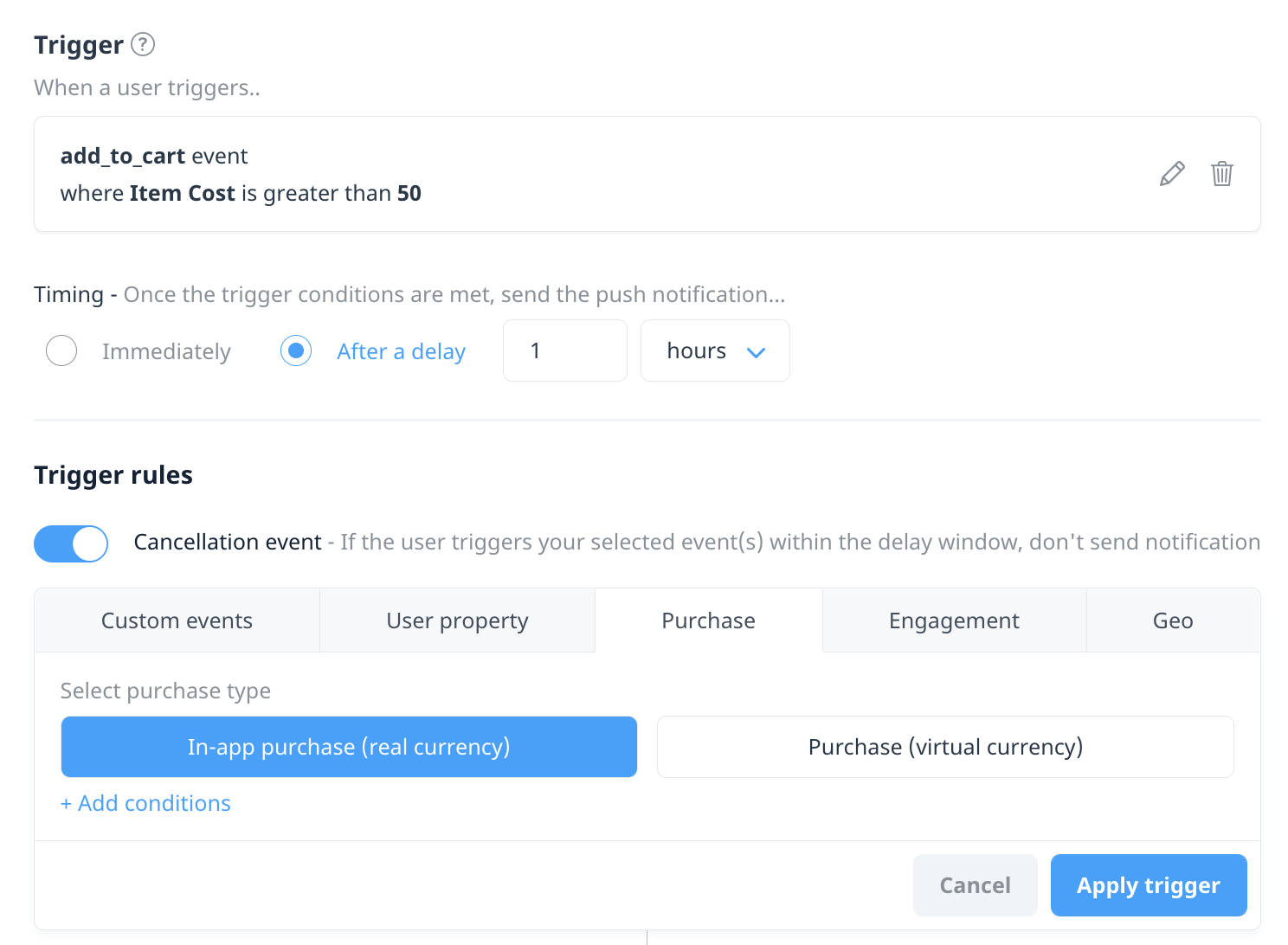 Add conditions to a campaign trigger event to create stricter entry criteria, such as limiting the campaign to users who added an item costing more than $50.
User profile change
Use triggered campaigns to notify a user when their profile changes to meet specific criteria or cross a set threshold. For example, notify a user when their remaining DVR space drops below 5 hours or when their latest hotel booking puts them into a new loyalty tier.

Item availability
Inform a user when a particular item or action becomes available to them again. For example, if a bonus refreshes every 4 hours, inform the player exactly 4 hours after they last claimed it.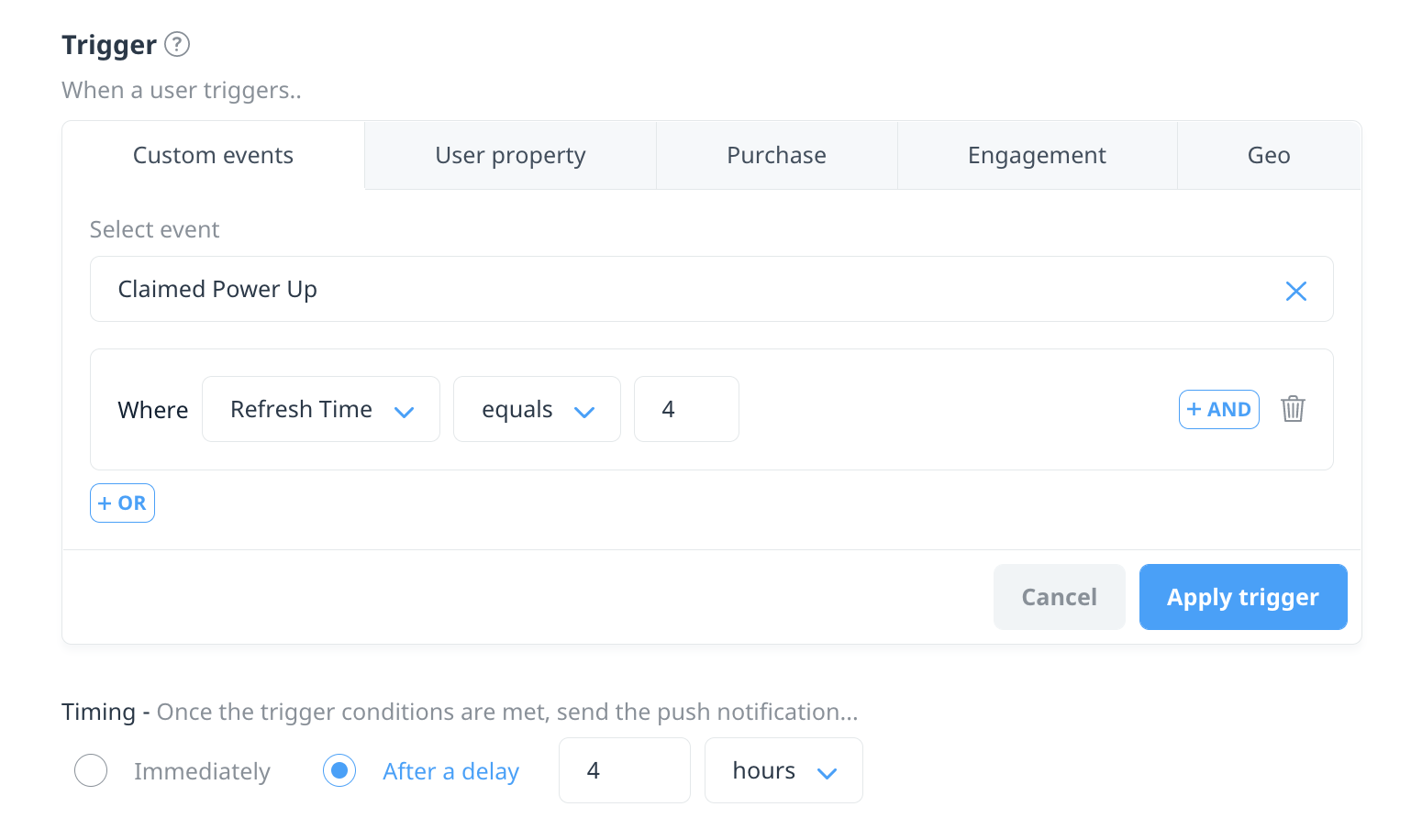 Personalize with action specific data
Personalize the campaign even further by incorporating details about the user's action into the message (in addition to any user profile information). For example, insert the name, picture, and price of the item browsed directly into the notification, and configure the deep link to direct the user to the item when they engage.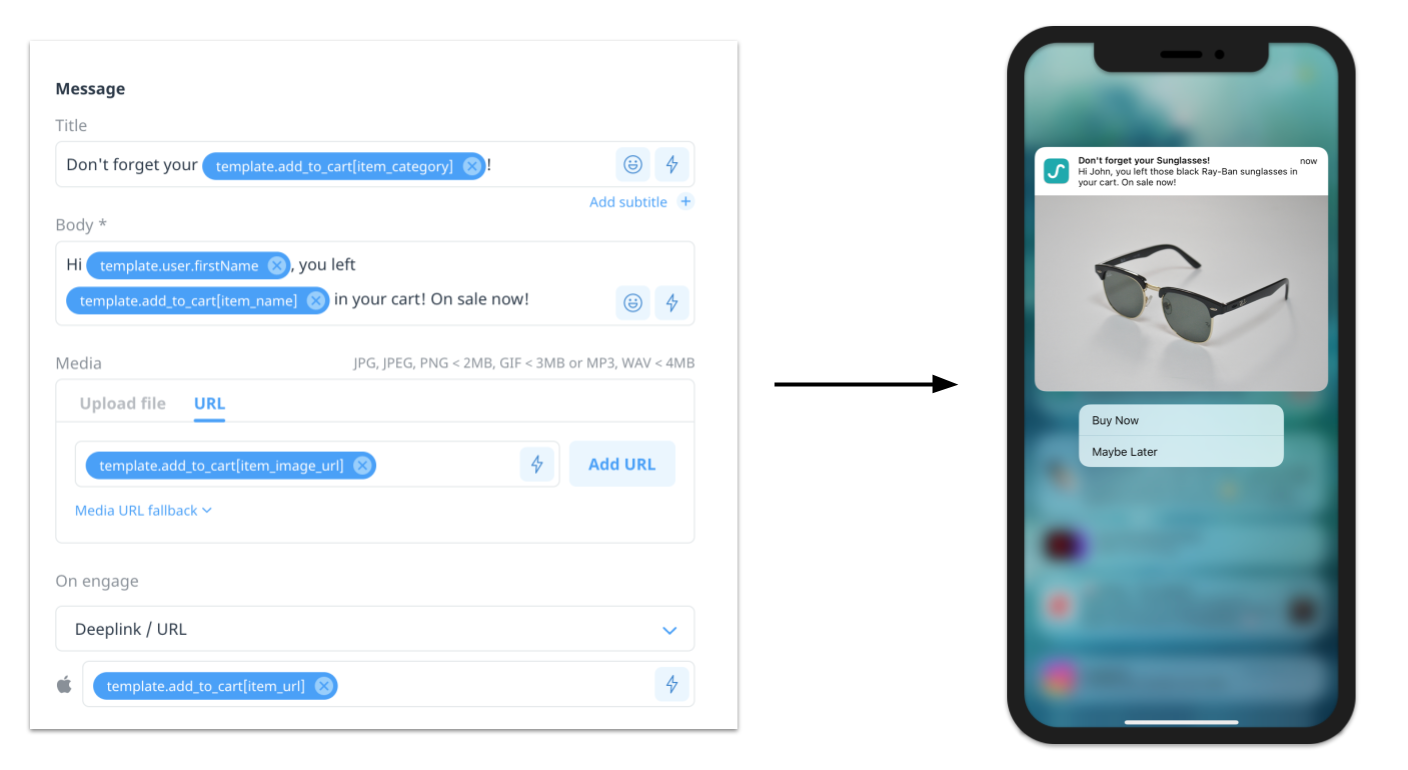 ---
Next steps