Swrve is highly conscious of the security and privacy of the sensitive data we report on in our dashboards. We provide an optional Two-factor authentication (2FA) configuration for your user base.
Company configuration
To view the 2FA settings for your company, on the Your account menu, select Company settings.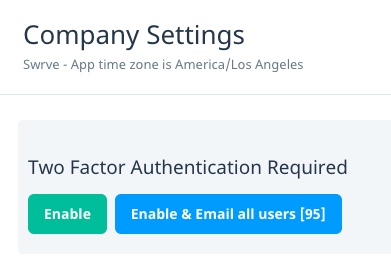 There are two options:
Select Enable to immediately enable 2FA.

Select

Enable & Email all users

 to enable 2FA and additionally send an email to those users who have not yet configured 2FA and prompt them to do so. The number in the square brackets corresponds to the number of users who have not yet set up 2FA.
The user list on the Company Settings screen displays the current users that have set-up 2FA, and those who have not.
---
User setup
Once you enable 2FA, the next time your users log in to the dashboard (typically the next day), they are taken through the steps to configure 2FA.
We recommend the free Authy app as a suitable companion tool, as it does backups and has a Chrome extension. However, Google Authenticator and every other Time-based one time password (TOTP) will also work.
The 2 Factor authentication window prompts the user to scan the QR code displayed on the dashboard with their 2FA app. The 2FA app responds by displaying a second code that they should enter. After this, users are redirected to their dashboards as normal. Users are not able to navigate away from this screen until they complete the process.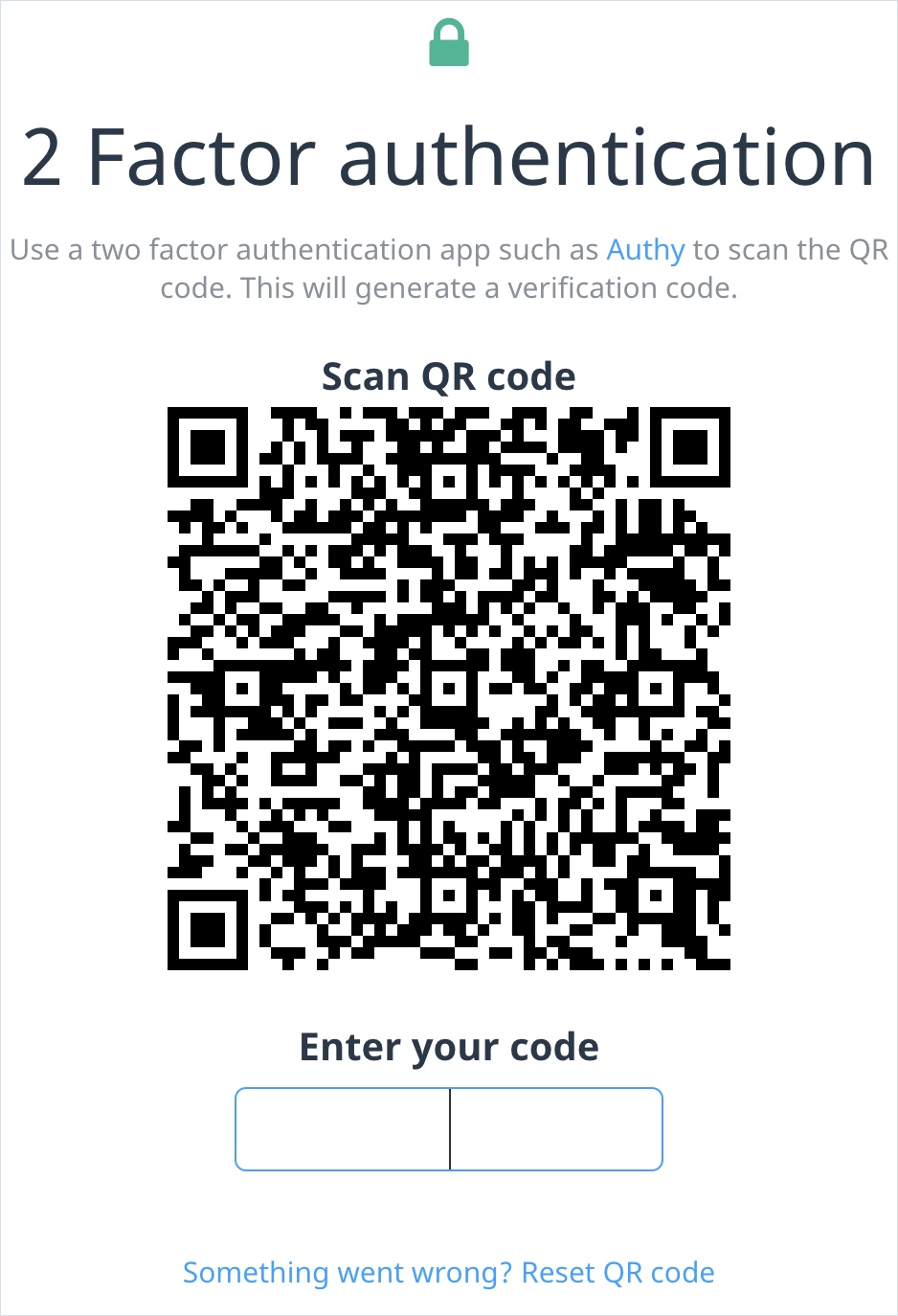 ---
Conditions of use
The system requires users to enter a new 2FA code every 30 days.
Should the user connect with the same device as the original 2FA on a new network,  the system does not require 2FA. For example, if they take their work laptop home, they don't need to re-authenticate.
Should the user login from a new device on the same network as the original 2FA, the system does not require 2FA. For example, if they use a different machine in the office, they don't need to re-authenticate.
If a user attempts to login from a new device and a new network, the system requires 2FA.
---
Reset process
If one of your dashboard users accidentally locks themselves out of their account after setting up 2FA (for example, they lose their 2FA secondary device), email Swrve Customer Support at with their email address and we will reset their account to re-configure 2FA from scratch.
---
Dis

abling 2FA
To disable 2FA, on the Company Settings screen, under Two Factor Authentication Required, select Disable.