Reach out to your customers directly on their mobile device with Swrve's new SMS campaigns.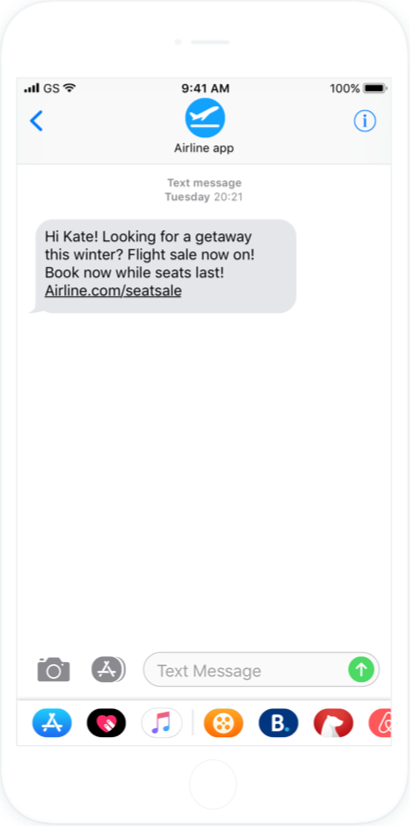 As one of the oldest marketing channels available, SMS is an important way to reach out to as many of your customers as possible in a short period of time. Use SMS campaigns for many of the same reasons you might use push notifications or email, with the knowledge that customers are more likely to respond to a direct text message.
Some common use cases are:
Operational messages – Notify airline customers of their departure gate or any changes to their flight status.
Retail messages – Confirm a customer's online purchase has been dispatched and offer the option to let them track the shipment.
Promotions – Offer customers discounts on their next purchase or notify them of an upcoming sale.
Customer satisfaction surveys – Request customer feedback after a recent purchase or customer service interaction.
We've also redesigned and consolidated our campaign workflow! Create and track custom engagement goals, add personalized content, define your target audience, and specify exactly when and how often to send messages. Quickly view and act on campaign results using the detailed reports and analytics that are available with all Swrve campaigns.
SMS campaigns may not be available depending on your agreement with Swrve. To have this feature enabled for your app, contact your CSM at 
support@swrve.com
.
---
Prerequisites
To create SMS campaigns in Swrve, complete the following prerequisites.
SMS provider – Currently, Swrve supports Twilio as a third-party service for sending SMS, so you must have a Twilio account. If you use an another SMS provider, talk to your CSM about a custom integration.
SMS campaigns – Contact your CSM at support@swrve.com. They will configure and activate the required SMS connector (for example, Twilio) and enable the new campaign workflow in your Swrve dashboard.
Sender number – To send SMS campaigns, you must specify a phone number, short code, or Messaging Service that sends the message.
---
Next steps